Make a Table Runner for the Farmhouse Dining Room
To continue with our Farmhouse Dining Room makeover, we've created a table runner that matches the stencil used in the buffet makeover. So far we've done a buffet makeover with the same design and now we've made the table runner, napkins and placemats to bring the whole room together!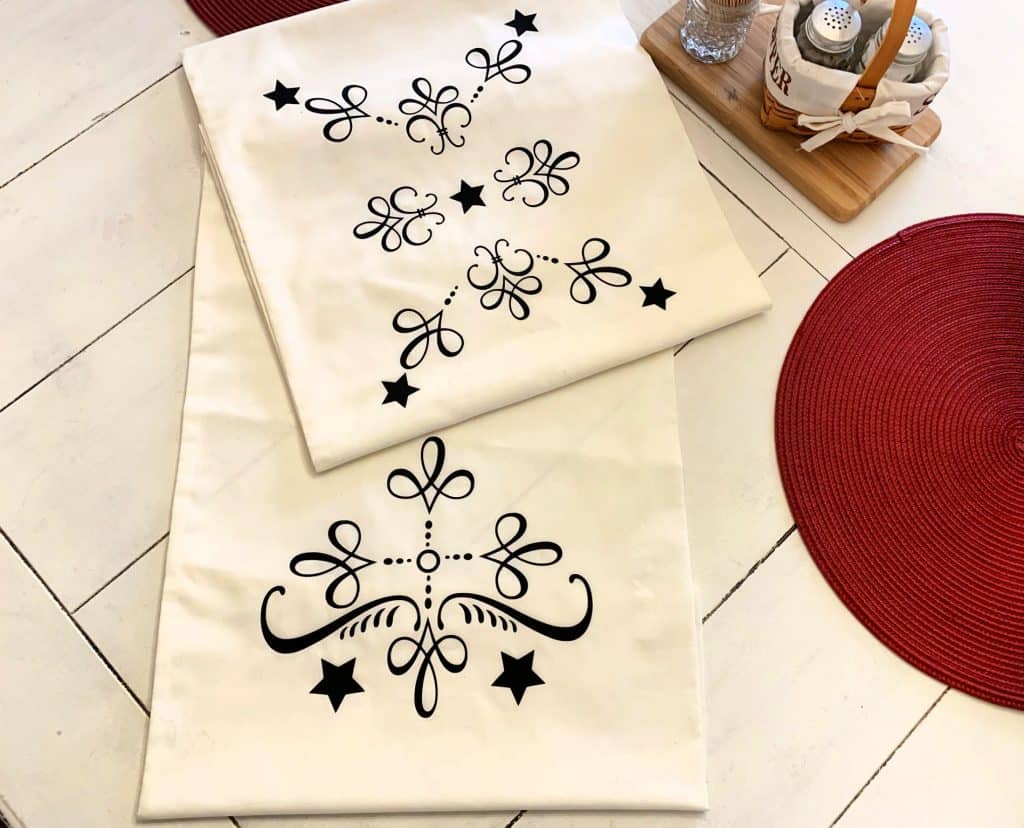 Having matching pieces like this brings a cohesiveness to the room giving it that designer look and feel. Often times it is hard to find all the matching pieces once we find a design we love, so making our own is another option.
This post may contain affiliate links and we may earn compensation when you click on the links at no additional cost to you. For additional information, please see my full disclosure policy.
This table runner was a Sew Easy project using cotton/polyester broadcloth from Fabric Wholesale Direct. A big shout out to Fabric Wholesale Direct for providing me with the fabric to show you how to make a table runner for the Farmhouse Dining Room! It has the perfect blend for all my HTV and Infusable ink projects!
Catch the video here so you can see how easy it was to make and see how good it looks in our Farmhouse Dining Room Makeover:
Our sister site, Craft Room Time, has the full instructions for using the Cricut to make the design too!
Want to make matching Napkins and Placemats too? All the free SVGs to use with heat transfer vinyl with your Cricut or Silhouette are yours when you sign up for our newsletter!
If you are like me, I can never remember where I saw things. Did you know that using Pinterest is an easy way to file away links so you can always come back to them later? Creating boards is easy! They work just like a file to store everything in and you can name the board something that will help you find things you like later!
Save this Pin on a board like "Home Decor" or "Farmhouse Dining" or "Dining Room" and you can easily find this post again!