Mobile Home DIY Kitchen Makeover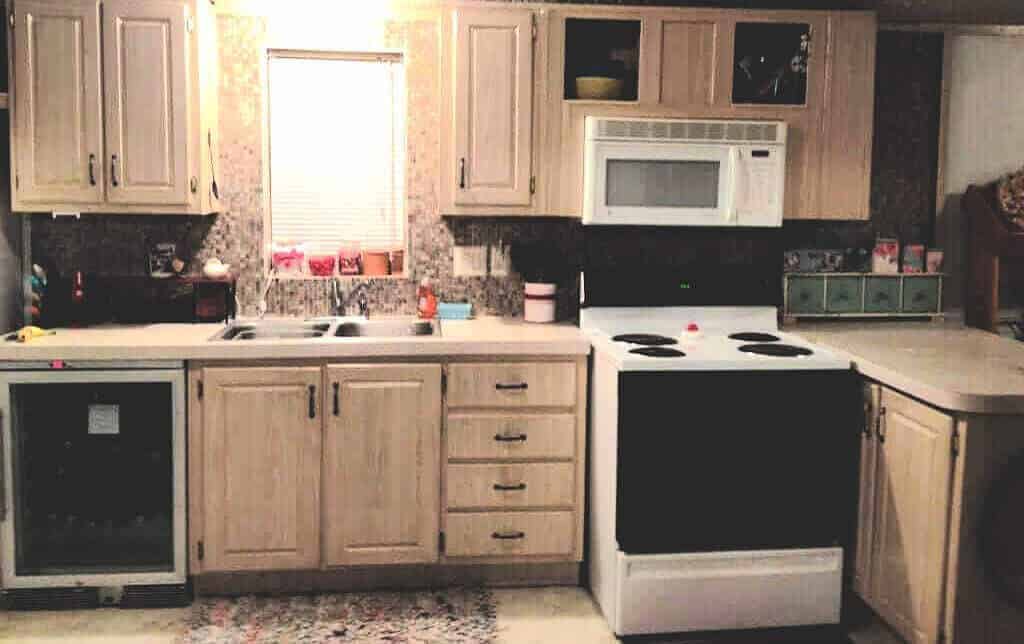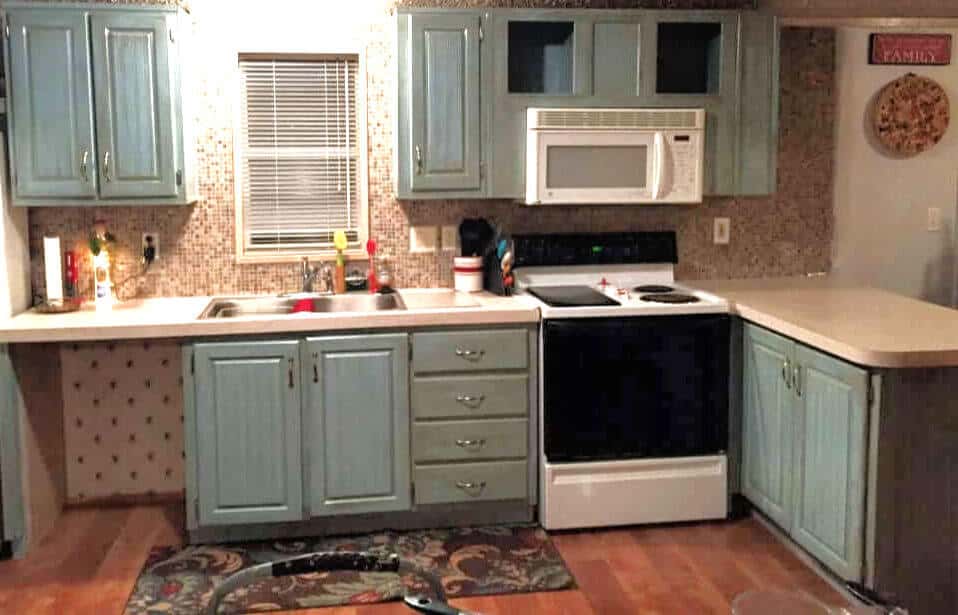 This was one of my favorite DIYs. I had a mobile home in CA and it had all the old 1970's cabinets in the kitchen. The press board with the look of wood overlay on top. I really did not have a budget to redo the whole kitchen with new cabinets so I just gave them an updated look. Read along and see exactly how I did my Mobile Home DIY Kitchen Makeover.
This post may contain affiliate links and we may earn compensation when you click on the links at no additional cost to you. For additional information, please see my full disclosure policy.
Supply List for Mobile Home DIY Kitchen Makeover
Click on any of the links and you will be taken to the product directly on Amazon.
Paintable Wallpaper by Brewsters
Paint I used was Chateau Chic is no longer sold at Home Depot. I recommend Retique
Wax Stain is Valspar
Water BasedSatin Cover
For Painting Color on I use the Red Handled Sponge Brushes
For Staining use an ordinary brush as pictured below and wipe with soft cloth like an old tshirt or Viva Papertowels
Step One
I found the chalk paint, stain and gloss. As you can see I used the Chateau Chic Blue Lagoon for the base, antique brown wax and the satin sealer. You can find similar products for chalk paint here.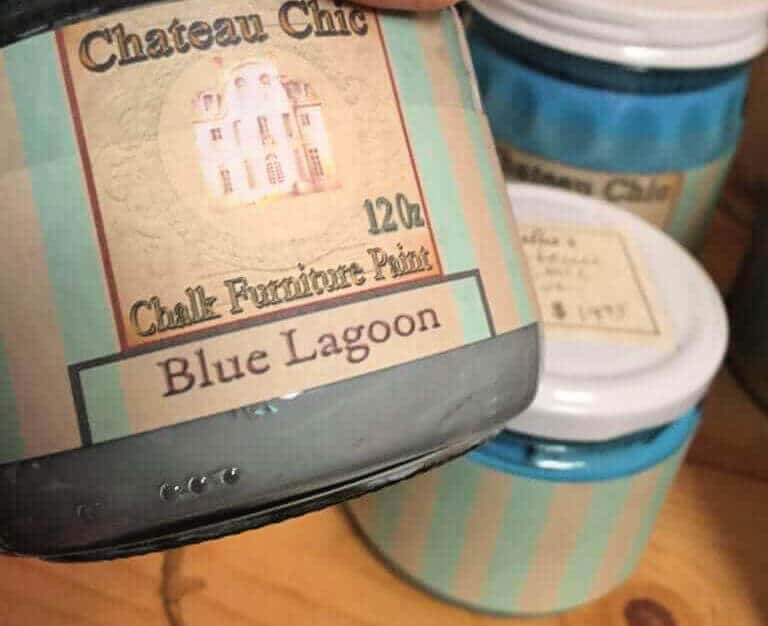 I took all the doors off the cabinets and used a mixture of TSP and water (according to instructions) and washed all the surfaces to remove any dirt and grime.
Step Two
I then used the paintable wallpaper and measured and cut the paper to fit the raised middle part of the cabinet doors. I attached the wallpaper using water and a soft cloth to adhere it to the doors.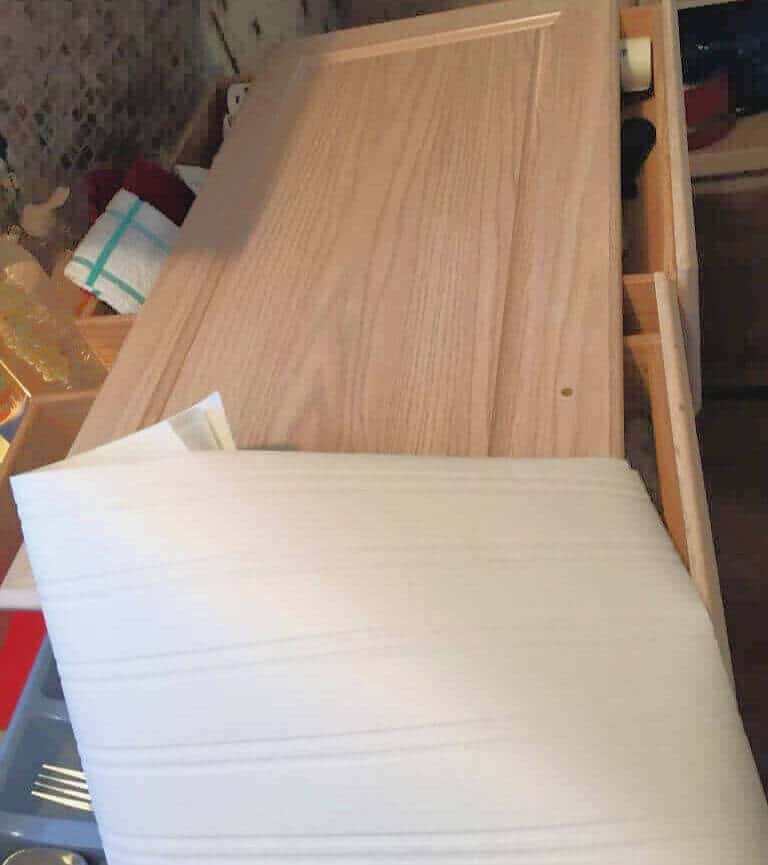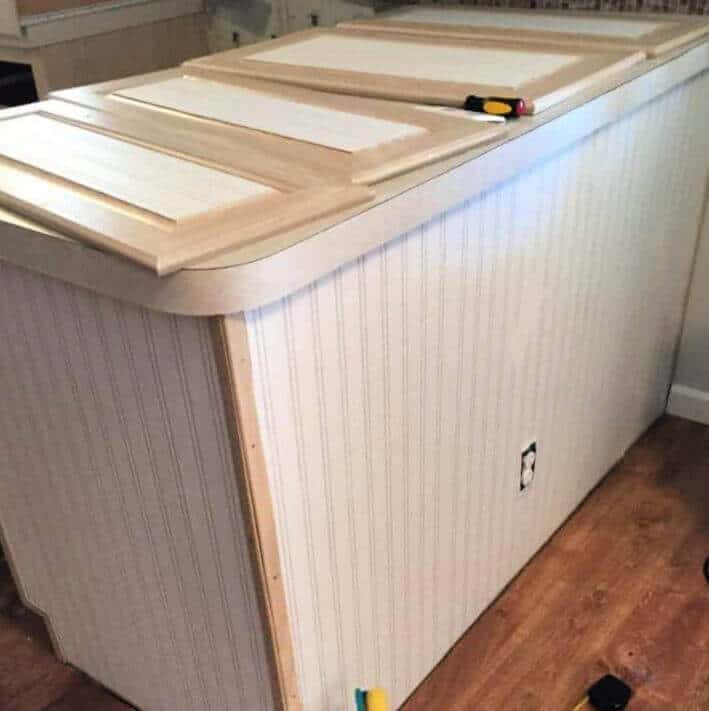 I also attached it to the bottom of the peninsula.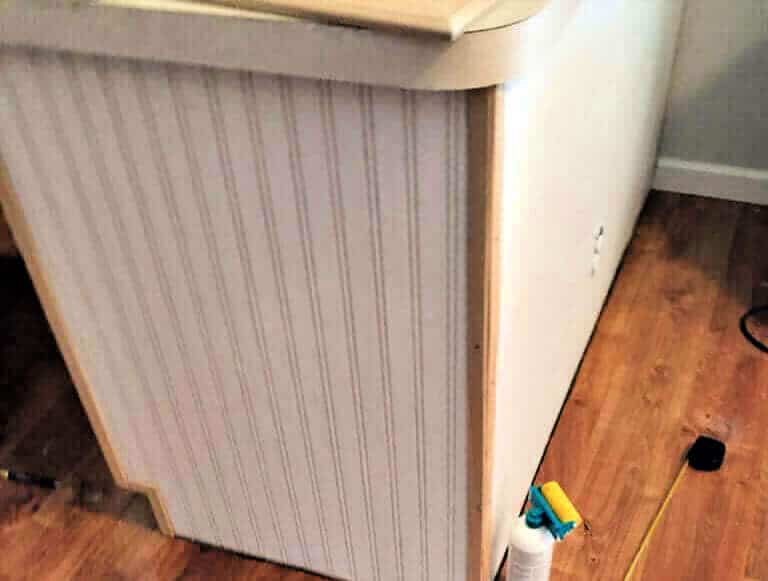 Step Three
I allowed all of it to dry and then followed instructions on the chalk paint to apply over the entire surfaces. I did take care going over the wallpaper so not to tear it. Once that was dry I applied the wax sparingly and just enough to create the antique look in mostly the grooves. As you can see I used a brush to apply and towels to remove excess. I had a fan going to dry it but I don't recommend using the plug without the cover.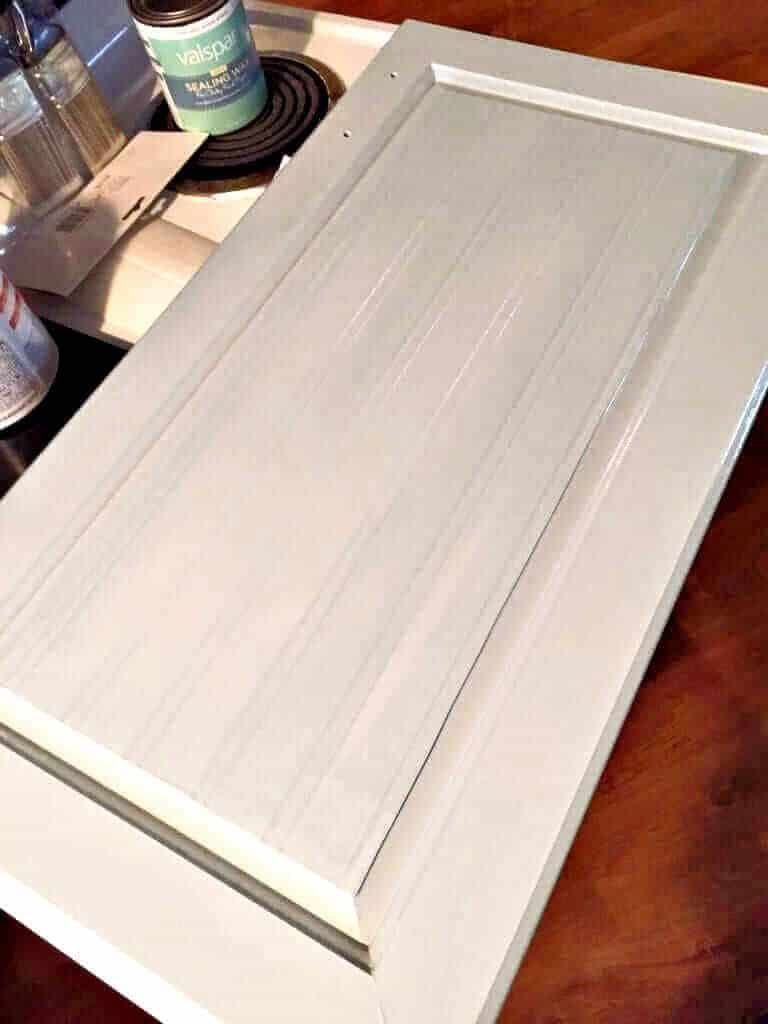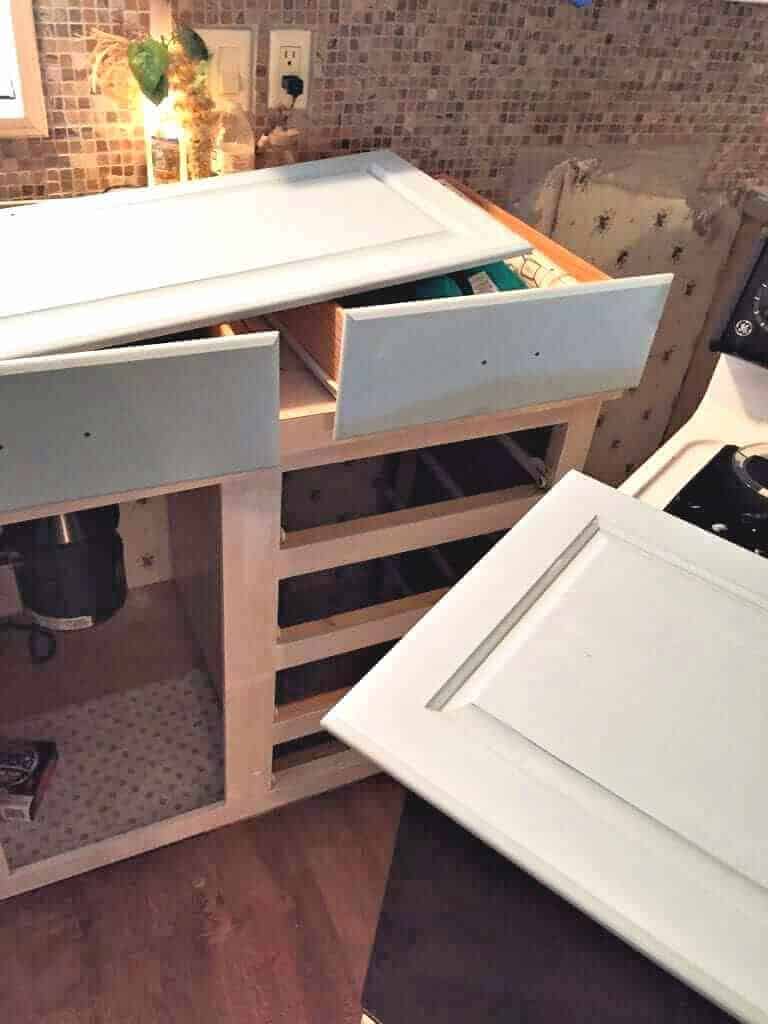 Step Four
Then I added the stain with a brush and wiped as I went along before it dried. The stain came out dark in these photos but in reality they blended well and did not come out that dark.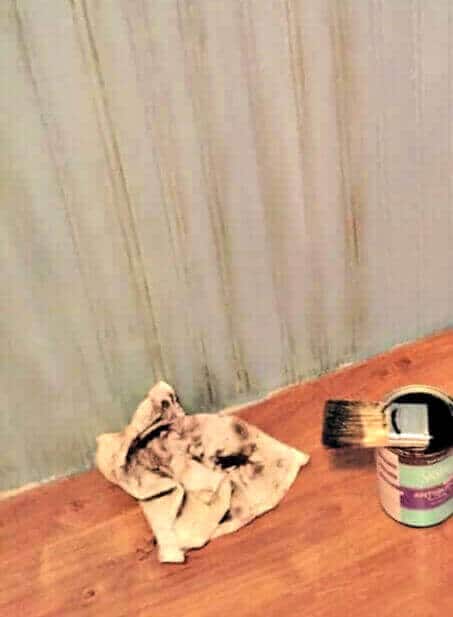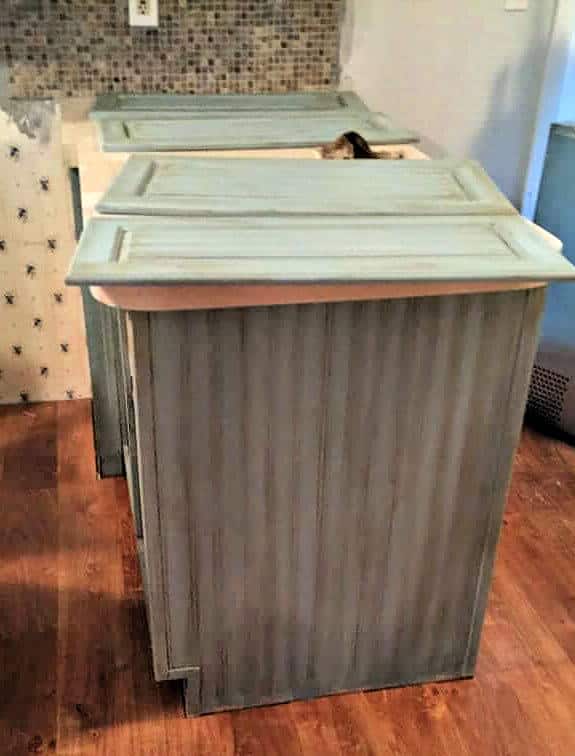 Step Five
Once that was done I applied a top satin gloss. Mainly because it was in the kitchen area and I wanted to be able to clean them off later.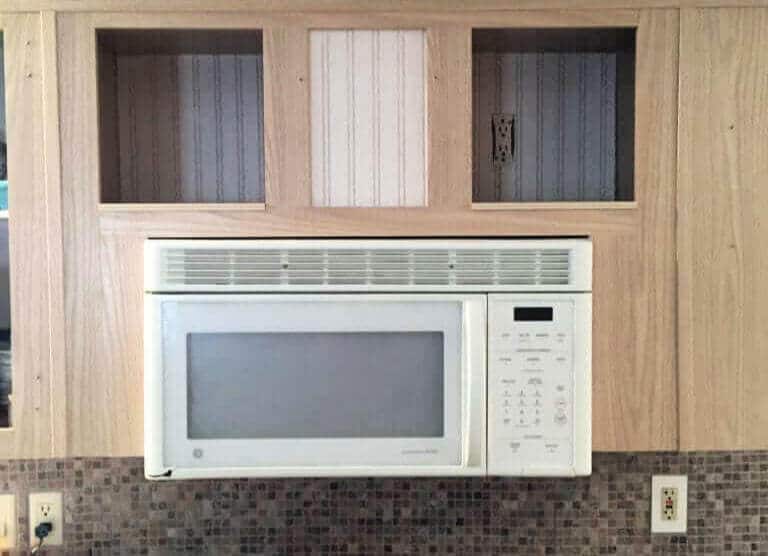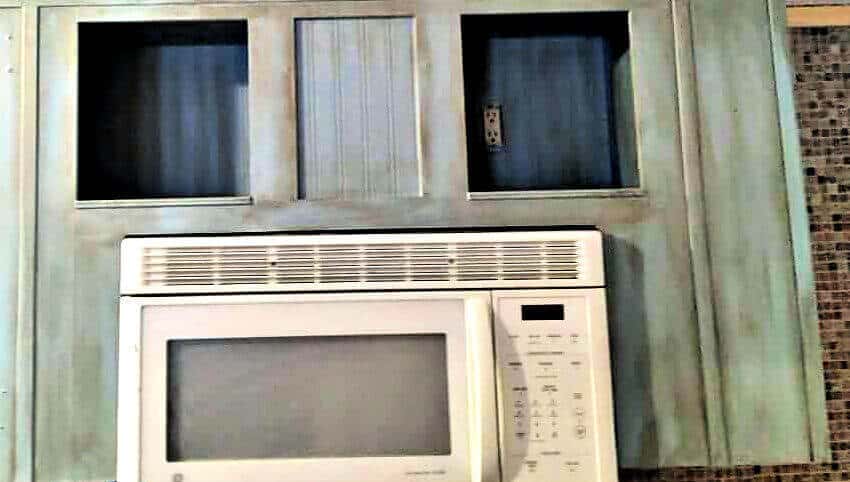 I was very pleased with the outcome. So much so that I am going to use this same technique on our new home! The stain came out dark in these photos but in reality they blended well and did not come out that dark.
I also redid the countertops just like I did in my bathroom. You can check out that post here for Step by Step instructions.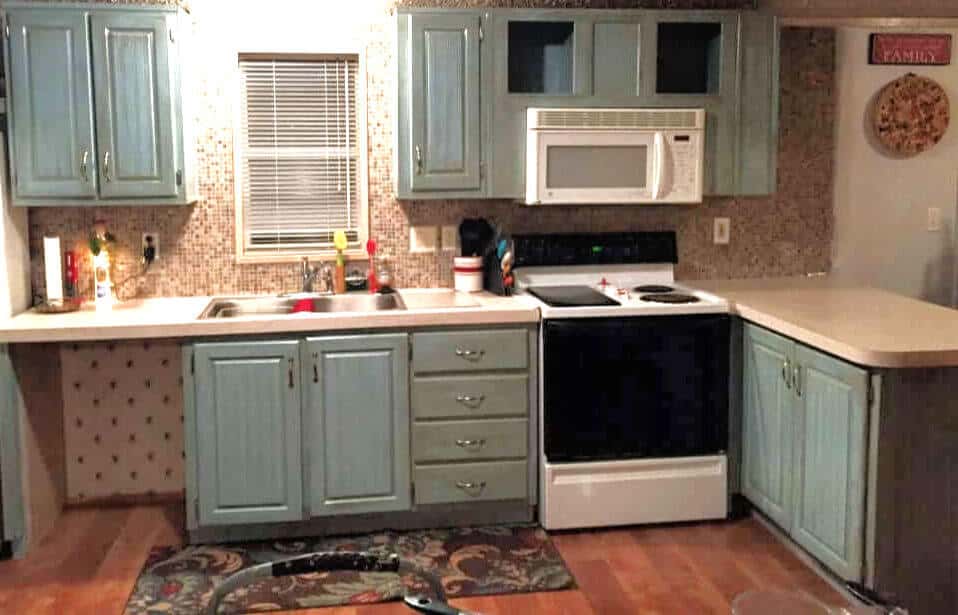 You can do this Mobile Home DIY Kitchen Makeover ! It was pretty easy. Took about 2 days to complete. Sure made a huge difference and made it feel really cozy!
Do you like the transformation? Please share and comment below with any questions!
Take a look at my other kitchen redo using the same wallpaper but with no paint or stain.