7 steps to Planning a Wedding at Home
There are so many venues available for weddings and receptions these days. Destination, Church, Town Hall, Hotel, even Las Vegas! Let's face it, those places can get rather pricey and for the destination weddings, everyone pays a price to attend. Why not plan an awesome wedding at home and use the savings to go on an all inclusive honeymoon somewhere exotic.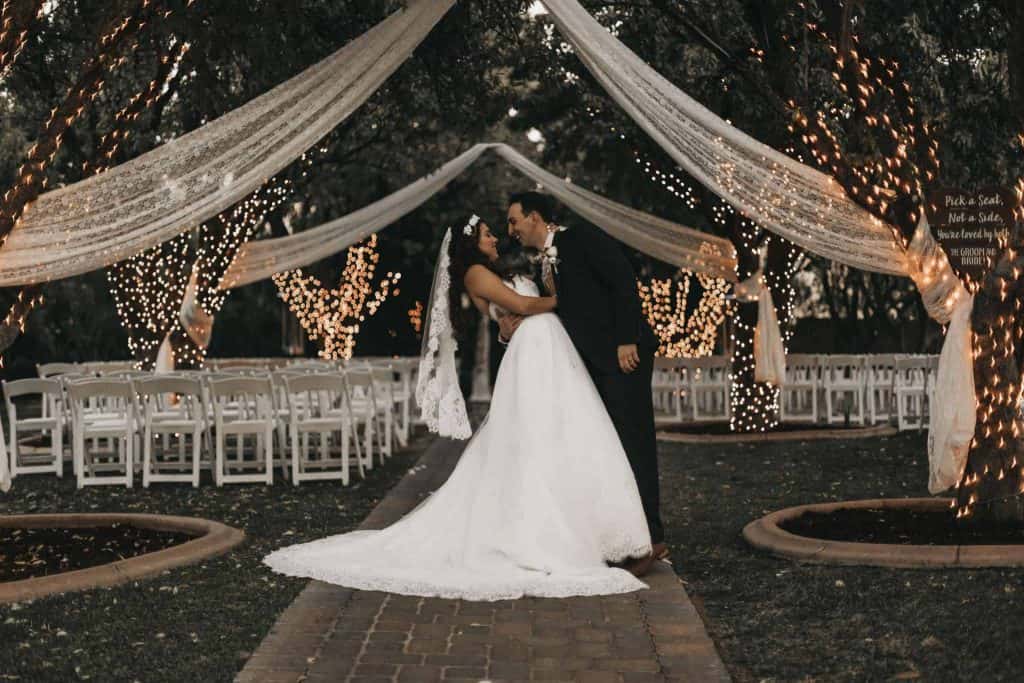 We threw a wedding at home for our daughter at our country home. It was absolutely gorgeous and we had so much fun. I can honestly say that it really went off without a glitch. Everyone had a good time and talked about it for months!
I've put together this list of 7 steps to planning a wedding at home that we used to help plan the perfect wedding day at home and get the free checklist here.
This post may contain affiliate links and we may earn compensation when you click on the links at no additional cost to you. For additional information, please see my full disclosure policy.
1. Invitations and More. All Your Printing Needs are Easy with BasicInvite.com
You want to share your day with your family and friends in attendance. After all the wedding is all about having witnesses to the commitment you are making to each other.
My friends at BasicInvite.com have all your printing needs covered. I am amazed at the quality, selection and pricing of over 1000 Wedding Invitation Sets that have matching save the dates, wedding invitations, enclosure cards, wedding menus, wedding programs and even matching thank you cards!
You can see all of them on their amazing website and because you are one of my favorite people, You can save 30% by using the code CCHsave30 when you order.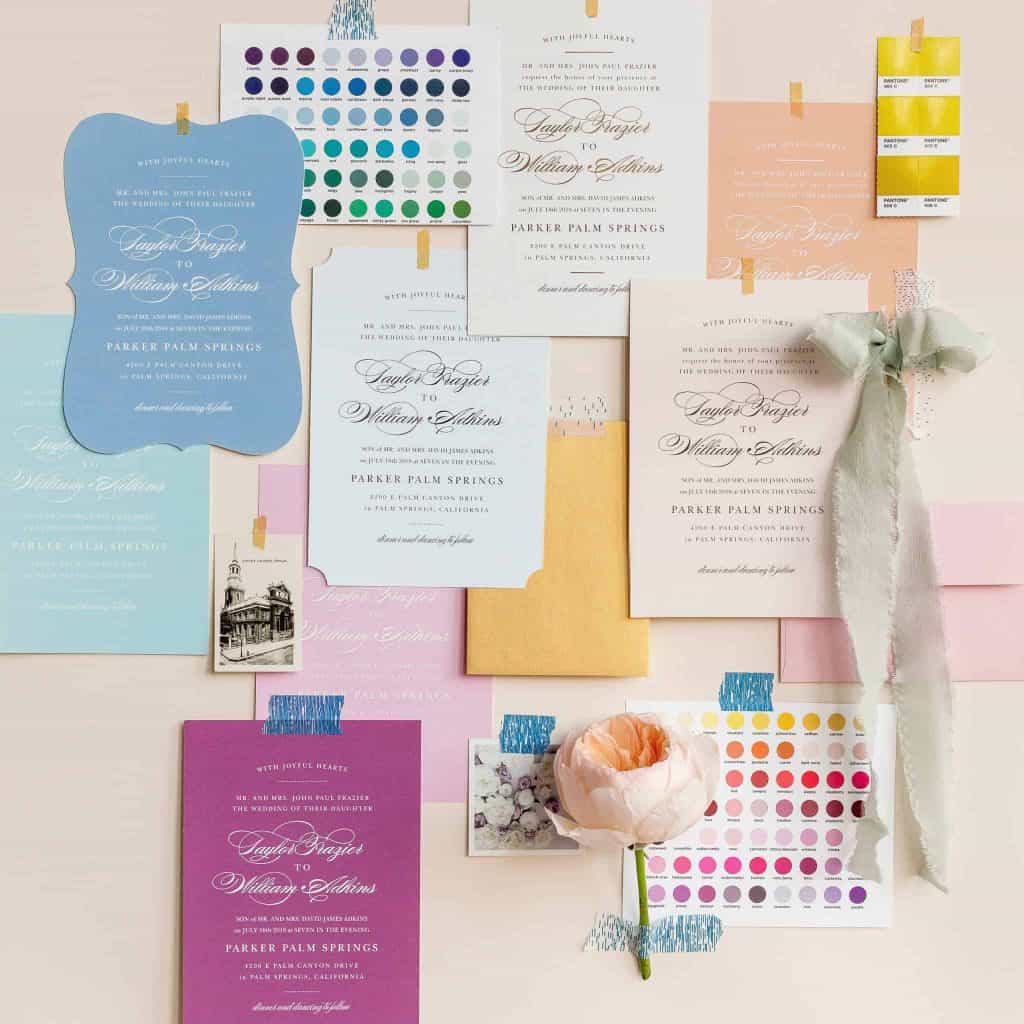 I love that BasicInvite.com offers Custom Samples. They are one of the few websites that allows customers the ability to order a printed sample of their actual invitation so they can see exactly how it will print as well as the paper quality before they ever have to place their final order. This is what they sent me after I customized it all.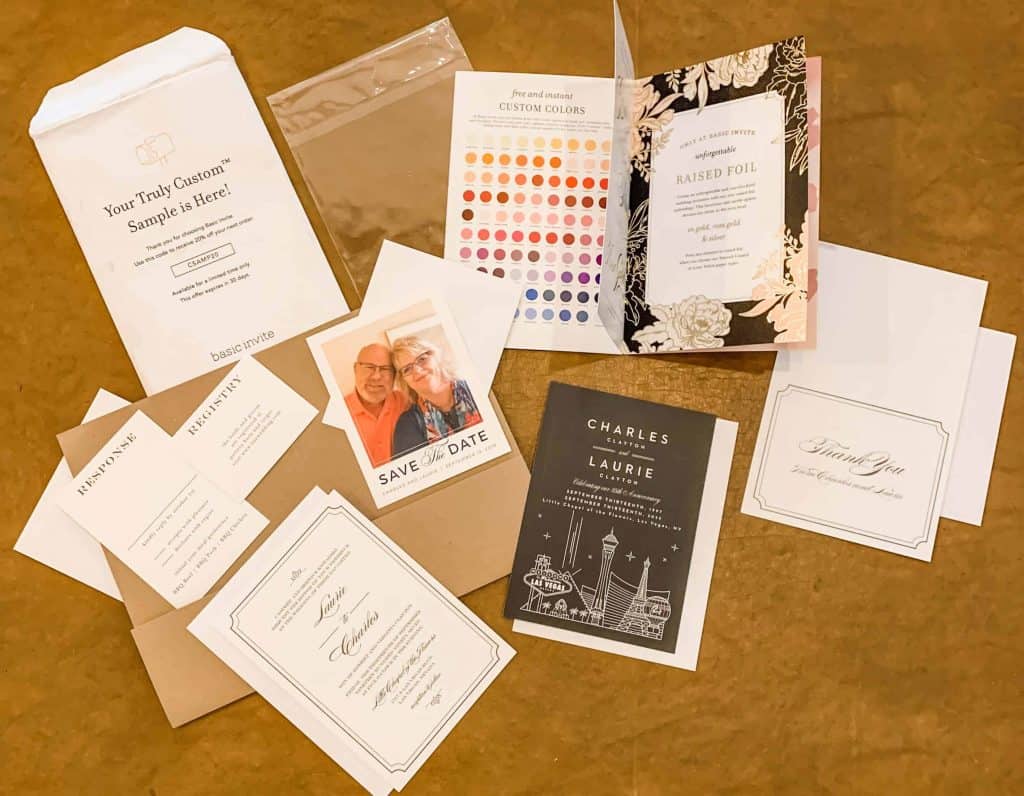 I took advantage of BasicInvite.com offer so that I could let you know exactly what I thought about their products and I have to say I am very impressed with everything I received! Great quality and so professional. I also love that you can order small to large quantities of each product individually so it truly is a customizable package.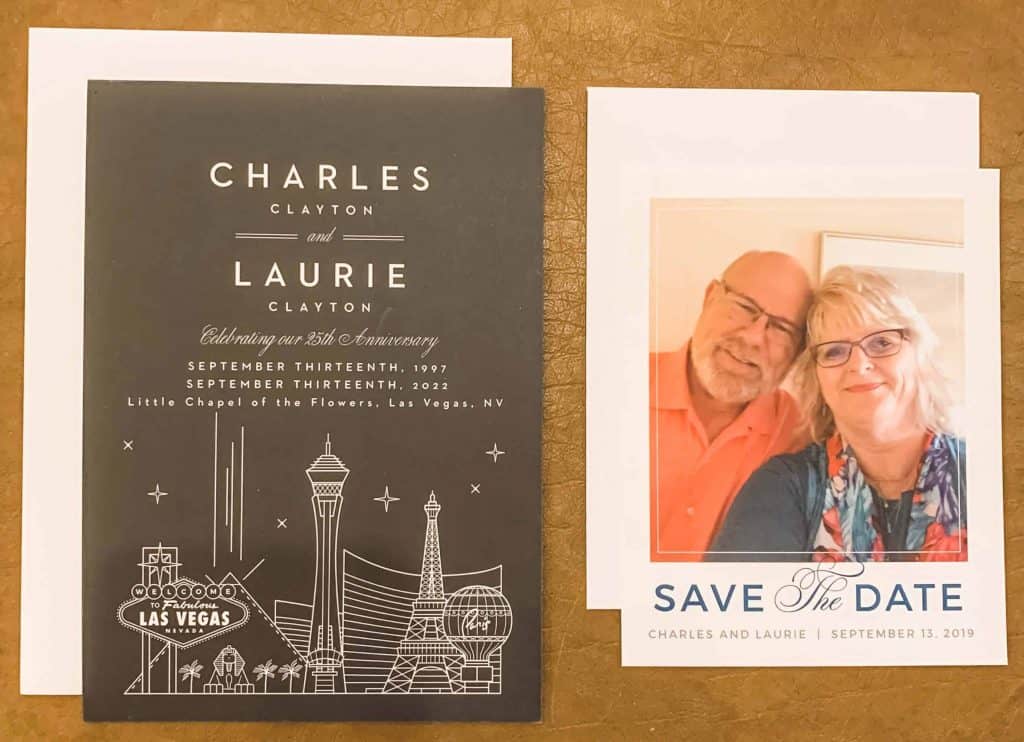 BasicInvite.com is one of the few websites that allows customers almost unlimited color options with instant previews online. Once you select a design you can change the color of each element on the card to over 180 different color options. So, you can make sure the card is exactly how you want it – down to the littlest detail. This is what they feel sets them apart from almost any other online stationery company. This is the chart that came with the samples but you can see all their color choices online by product.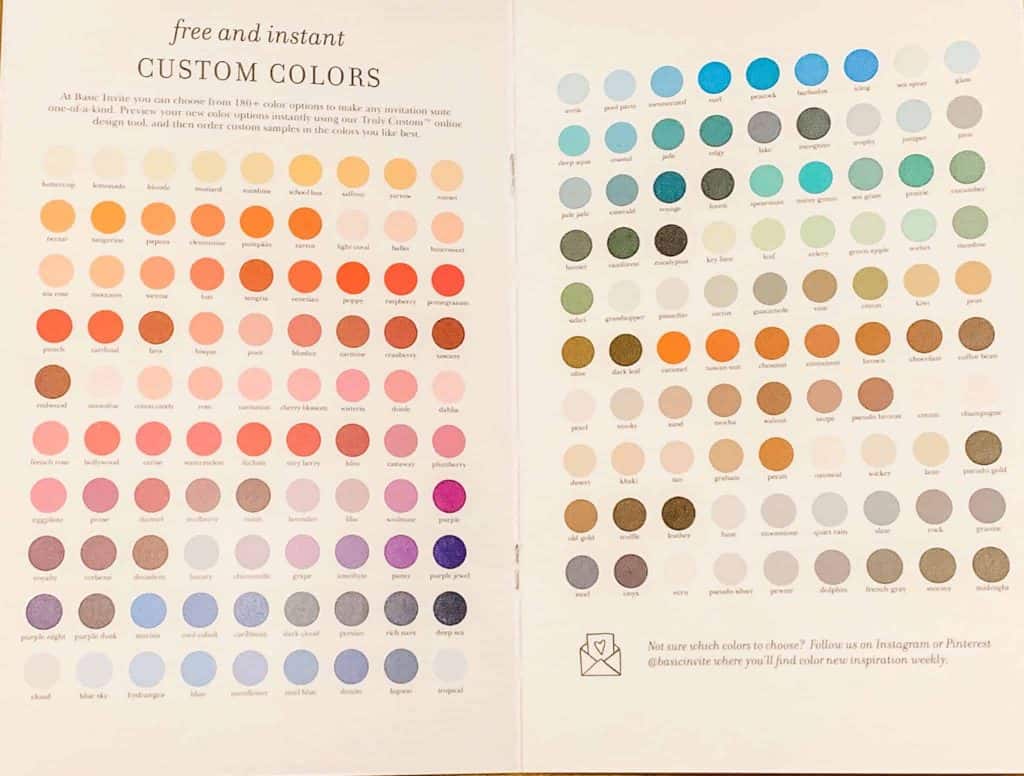 Want a quick and easy solution that saves you money? Their Seal & Send Wedding Invitations are an all-in-one wedding invitation with a tear-off RSVP postcard included! They come in over 30 designs including foil options and are fully customizable. Guest's addresses are printed on the front of each invitation which means no extra envelope expense! All you have to do is share a link, collect guest addresses, and upload them onto your design. Once you receive your order all you have to do is add postage, fold your invites, and secure them with a sticker! Simple, easy, and super trendy.
Everyone is always trying to figure out new items to make their wedding more personalized with that added touch. BasicInvite.com has that covered as well with amazing personalized Keepsake Guest Books and Printed Wedding Coasters.
I saved the best part of their services for last.
BasicInvite.com offers Free Wedding Websites! Their wedding websites are completely customizable just like our wedding invitations! These wedding websites are mobile friendly and super easy to use. You can instantly upload all of your wedding details such as "our story", event information, their address (which populates the envelopes), gift registry, RSVP, and a photo gallery and a map with directions which is super convenient for your guests. You can even choose a design to match your wedding invitation suite!

2. Catering Your Event
Start as early as 2-3 months out getting your Caterer. You will want to schedule an appointment to try samples of their menu items. They will need a full headcount so be sure to find out the time frame they need before the event. If they will be providing the cake be sure to try samples of the cake, frosting, and fillings as well as looking at samples of their completed cakes. Be sure to find out if they provide utensils, plates, glasses, etc. as well. Lastly ask if they provide set up, servers, bartenders, take down and clean up. It's nice to have this all included so you will not have to deal with several vendors.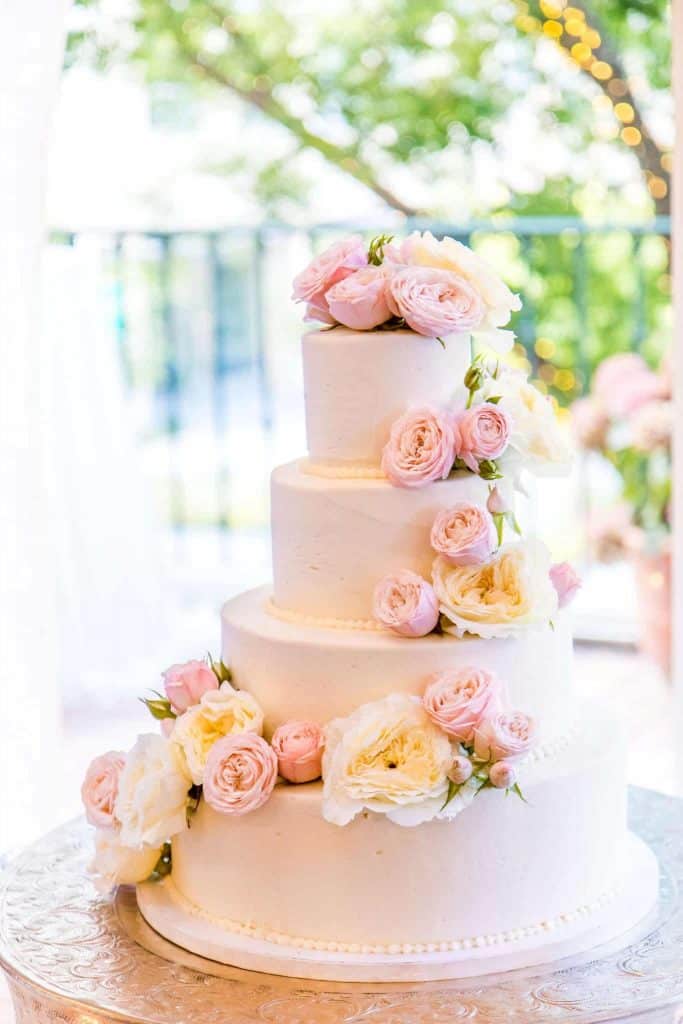 3. Officiate, Videographer, Photographer and Band
Some officiates will only do them in churches so make sure they will do a home wedding. I also recommend that try to find someone you know or have seen officiate before. Also be clear with them exactly what you want and expect. It's your day and you are paying for their service to make it about you and not them if you know what I mean.
Check out bands. Get recommendations and go see them or ask for videos. Ask to see their playlists or better yet provide them with yours to see if they are able to play the majority of the songs. Let them know the dress code if you have one. Also, the day of the event, give them an itinerary so they know exact times to make appropriate announcements. Be sure to get on their calendars as soon as possible!
Choose a photographer and videographer that you have some experience with, is recommended or has a proven track record. This is the most important vendor in my opinion. They will be capturing your day for a lifetime of memories to look back on. Be sure they know what they are doing and have the resources available to make your photos beautiful and everlasting.
4. Rentals
Plan on having expenses related to rentals. This would include tables and chairs, archway, punch bowls, coffee urns, dance floor, restroom trailers (for larger venues), and tent (especially if there is no space for an emergency indoor wedding due to rain). Be sure to check rental places ahead of time.
5. Preparing your home
You will want to take into consideration where your guests will park. If your property has enough space to accommodate all your guests then just be sure they are aware of where to park and leave a space for the Bride and Groom especially so that they can exit the party in advance of the guests.
Spray your yard for bugs a few hours prior to the event. No one wants to be attacked by pests while enjoying the day. As mentioned above, you may want to rent a restroom trailer especially if you don't have ample bathrooms in your home or want to avoid people coming and going inside.
Be sure to have adequate lighting outside if the event will linger into the night or takes place at dusk or later. You can easily use nets of lights on the bushes or hang decorative lights from trees.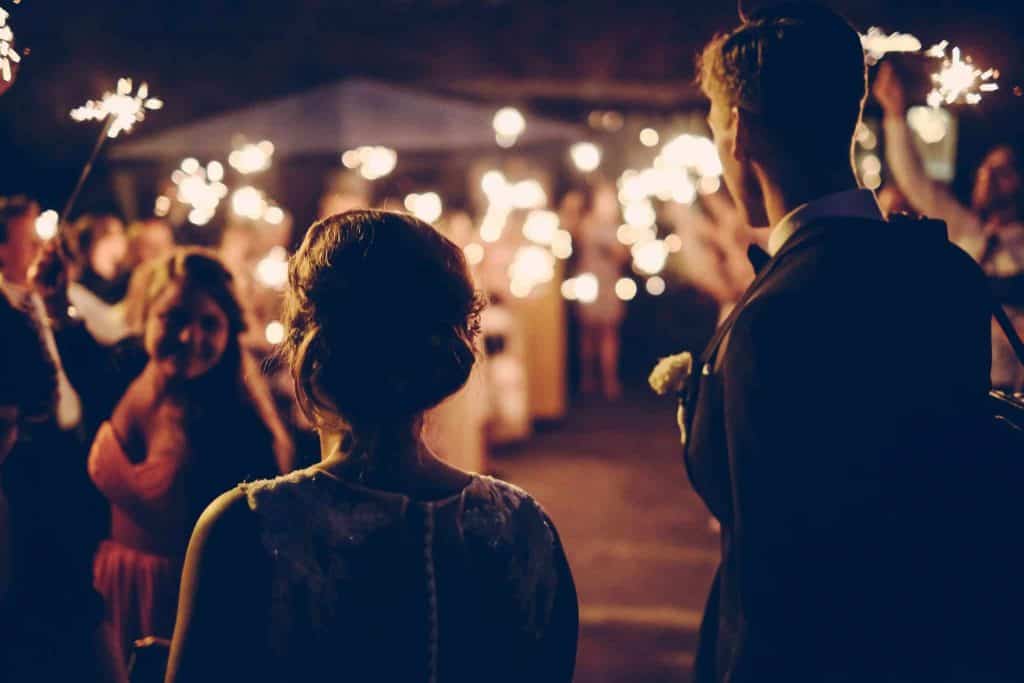 Plan ahead of time where pictures will be taken with the wedding party, so that the area is clean and free of debris. Prepare the place the actual ceremony will take place by making sure there are no trip hazards, holes, and the area is level and will accommodate the chairs without sinking.
You will want to have rooms in your home available for the bridal party for dressing. Plan to have a large mirror for the Brides room so she can primp and have some very nice reflective photos taken of her in her gown prior to the ceremony.
Have your bathrooms stocked with adequate supplies so you are running around filling toilet paper rolls. Have these handy supplies available: lip balm or hard soap (use on difficult zippers); clear nail polish (attach a loose rhinestone or stop a stocking snag); baby powder (use on spots found on dress last minute); baby wipes for unexpected spills and anything else you can think of.
6. Flowers
Check with local florists about their availability, pricing, and delivery of all floral arrangements. Consider the weather when choosing your flowers and if they need to be in a cool place before going outside, make sure you have a place to put them. You may want to consider using artificial flowers and plants to decorate outdoors so there won't be any risk of wilting flowers in photos.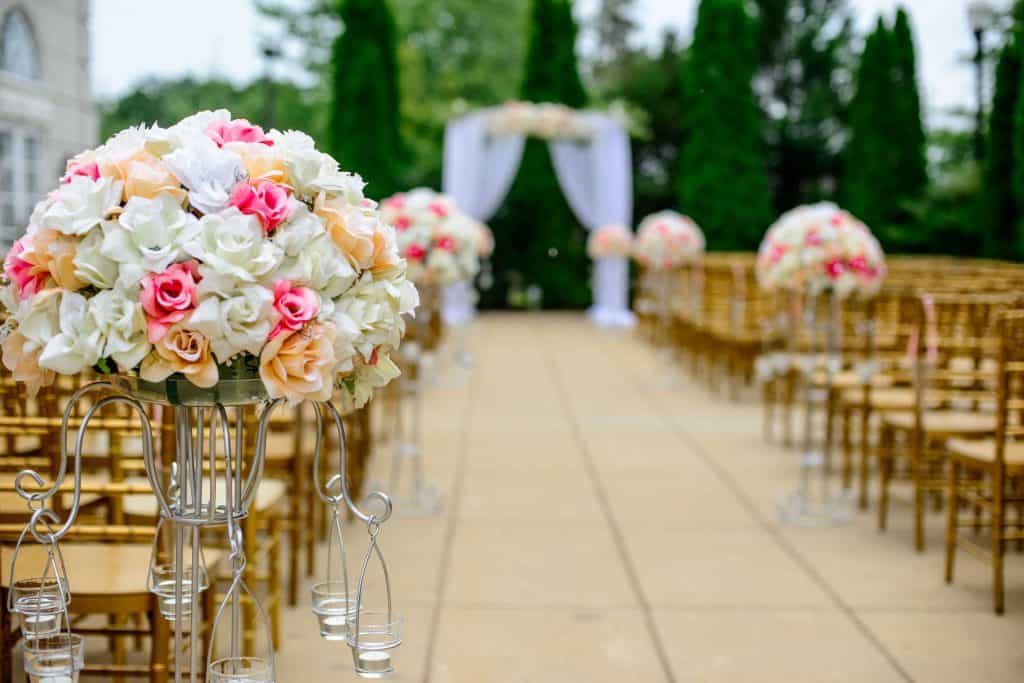 7. Other things to consider
Do you need a permit? Check with your local city offices to see if a permit is needed to hold the wedding on your property. Some cities require them if your part is over 50 people.
Consider an Unplugged Ceremony. Let your guests know to leave their phones and tablets put away during the ceremony. This way they are not distracted or distracting everyone. Make a quick announcement to the guests to remind them before the ceremony starts.
Check with your insurance provider to make sure you are covered for liability, personal injury and property damage for the day of the event.
Pin it for later:
In Conclusion
There you have it, 7 steps to Planning a Wedding at Home I'm sure there are other things that you might think of that I missed.
Don't forget to use the code CCHsave30 to get 30% off your total purchase at BasicInvite.com for all your printing needs!
If so, please leave them in the comments to help everyone out. Share your at home wedding experience as well! I'd love to hear them. 
Other product reviews I've done can be found here.