Gift Wrapping Made Easy with Wrap Buddies
Ever dread the never ending mess of gift wrapping? Me too! Wrapping paper everywhere. You can't find the tape under the mess. Well I have a solution for you! Make your gift wrapping made easy using The Wrap Buddies!
This post may contain affiliate links and we may earn compensation when you click on the links at no additional cost to you. For additional information, please see my full disclosure policy.
These two little grey gadgets were a puzzle to me at first. Just exactly how is this going to help? I had my doubts but I'm here to tell you that they are Awesome!
Easy to Set up
Just simply take one of the clamps and put a roll of tape on the one side and your role of paper on the other side, then take the other clamp and put the paper on and clamp it to your table so that the paper is held in place.
Then roll your paper out to the desired length, cut and use the tape to adhere it to your package. That's it!
As soon as I used this once – I was hooked!
The possibilities are endless. You can use this product in your Craft Room to roll out Kraft paper to use in your crafts or as a protective cover for your craft table.
Use it in with your kids to roll out drawing paper that they can color on or make you priceless art!
The Wrap Buddies is inexpensive and will save you time and frustration with your gift wrapping! I highly recommend them! Once you get one set you will want more!
Where to get the Wrap Buddies
Take a look at this video to see the many uses of the product:
Pin it for later: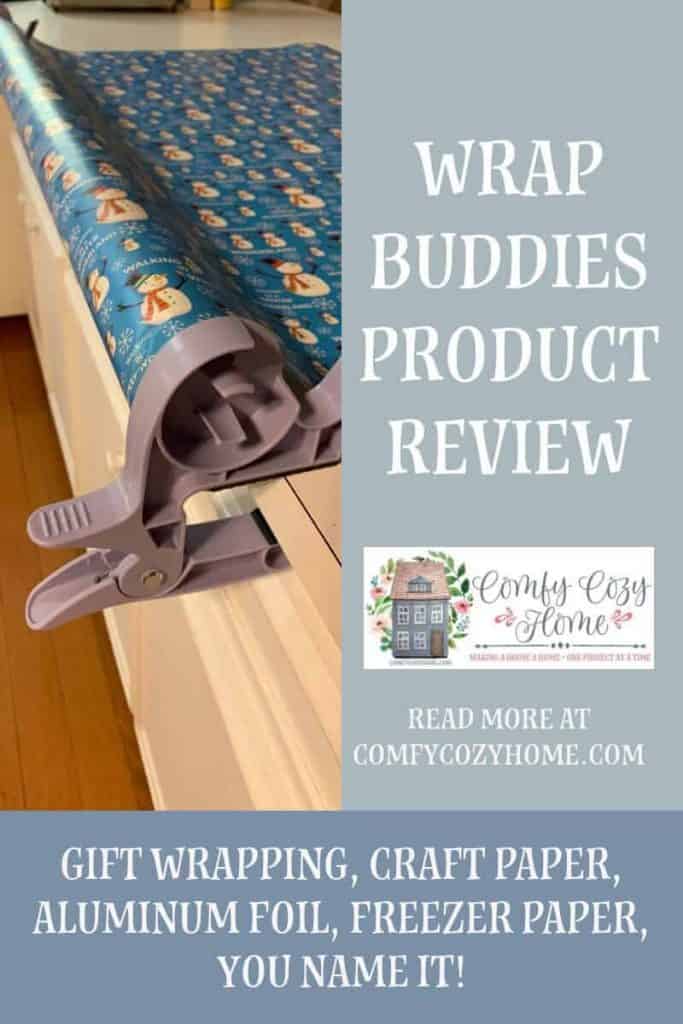 Do you think you would like this product to make your gift wrapping easy? Leave me a comment to let me know!
Get your Wrap Buddy today!
Other product reviews can be found here.