I can't think of a home that should not have a basic household tool kit. Have you ever been trying to hang a picture and you have to search everywhere for a hammer, nails and level? I have for sure.
This post may contain affiliate links and we may earn compensation when you click on the links at no additional cost to you. For additional information, please see my full disclosure policy.
I have a recommended basic household tool kit that you can very easily put together for your home! This kit will get you started and you can add to it as you go along. The secret to having a Successful kit is having it all in one place so you can easily grab what you need!
Because we are avid DIYers we have a few kits for different purposes. You will see in blog posts where I recommend certain products that you would most definitely want to add to your designated "kit" area.
Designated space for tools
Start with designating a purposeful, dedicated space in your home or garage. For me I have a small space in our home in the hallway closet for a tool kit just for inside the house. I purchased shelving that would fit and luckily we had an electrical outlet in there so I created a space for charging the cordless electrical drill.
Then in the garage I have dedicated shelving for the tool boxes and totes for outside maintenance, car tool kit, car maintenance, painting, trash and leave pickup, etc.
I prefer to use tool boxes and totes and I label them. Putting a label on the shelf and the tool box or tote will make put away easier and I find that others do the same. I think it is a subliminal message to keep it organized.
list of tools
Here it my list of what I keep for Household maintenance. It has the basics that you will find having in one place is very helpful. Just grab the tool box and take it where ever you are working and you won't have to be on the hunt.
Cordless Drills and Bits
Hammer
Phillips and Flat head screwdrivers
Long Nose Pliers
Tape Measure
Level
Allen Wrench Set
Staple Gun
Adjustable Crescent Wrench
Heavy Duty Electrical Extension
Basic Nail kit
Basic Picture Hanging kit
This is what I recommend to purchase for the list above:
Get a copy of the Basic Tool Kit Checklist here and make it easier the next time you go shopping!
You may want to take a look at my Spring Cleaning Checklist as well!
PIN IT for later: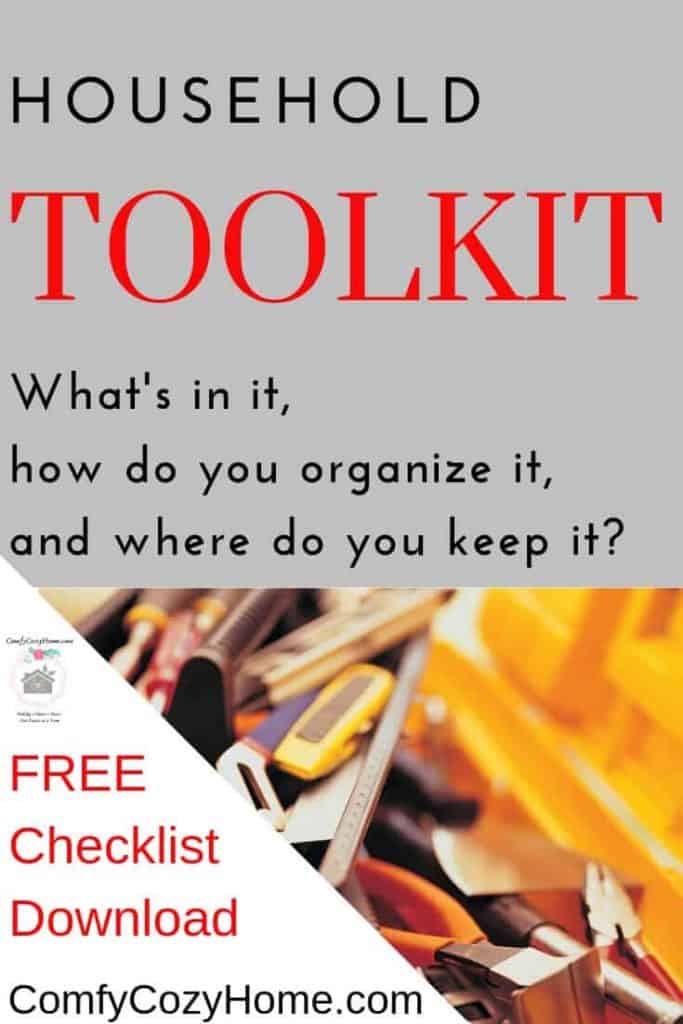 That will cover all your basic needs inside your home! Tell me in the comments what your most used tool or must have tool is.