7 Steps to Upgrade a Half Bath
Do you have one of those awkward small bathrooms or half baths that don't have any character? I do, so I know what you are going through! I'm going to share what I did to upgrade a half bath in 7 steps to make it cozy and fun

This post may contain affiliate links and we may earn compensation when you click on the links at no additional cost to you. For additional information, please see my full disclosure policy.
When we purchased our home I made some notes while we were in escrow and I found exactly how I wanted my half bath to look. I got my inspiration from Pinterest (best site ever!) Sorry for the quality of this photo. I'm learning LOL.

So here was my design idea: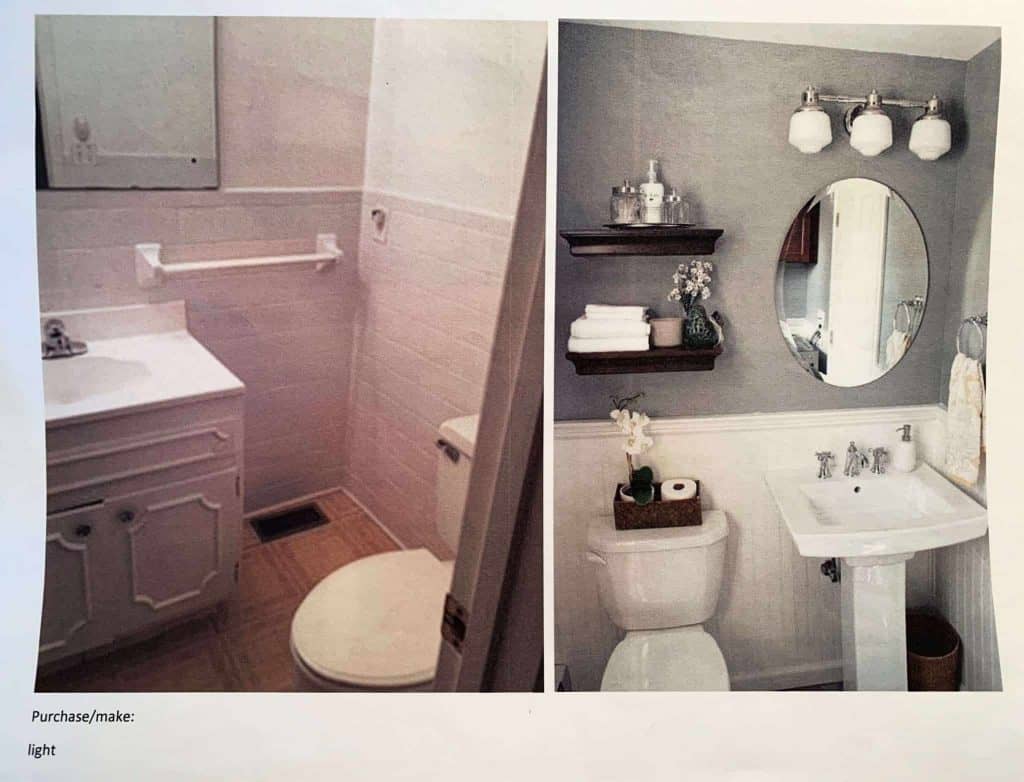 Now take a look more closely at what I did step by step:

Step One: Purchase Materials
Take measurements, photos, etc. Anything that you think will help you when you make a trip to the store to purchase your paint, shelving, etc. Use the reference I posted earlier that shows the before, the measurements and ideas along with inspiration photos. Having all that comes in handy and takes the guesswork out of the project.

Step Two: Clean
It's always best when you are starting a redesign or painting a room, to remove all the items that will be in the way. Then take some time to wipe everything down. This way you are removing any build up of grime and dust that will make your project easier to do and complete.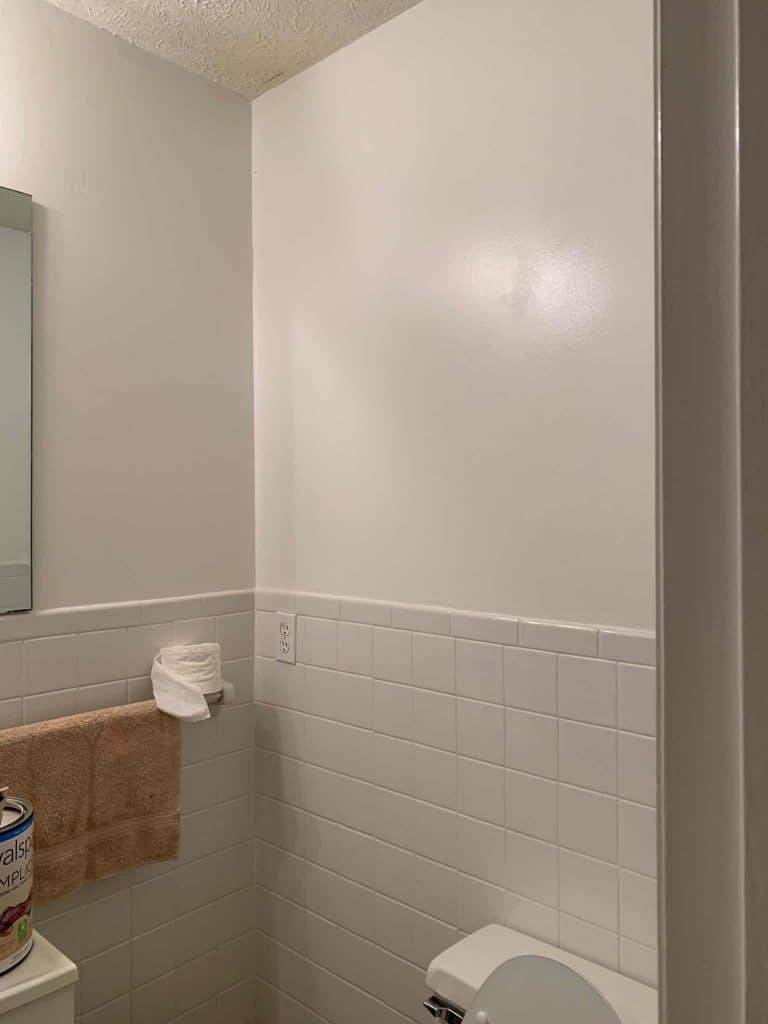 Step Three: Make Repairs
Fix/fill all the holes in the walls. Repair any missing or broken tiles. Fix the leaky faucet. Do all this while your room cleared.

Step Four: Paint
Time to get out the painting kit. Click here for a handy checklist. Prepare your walls by taping off areas. Start with cutting in and then rolling. I used a darker Grey which made the white counter stand out and gave it a more cozy feel.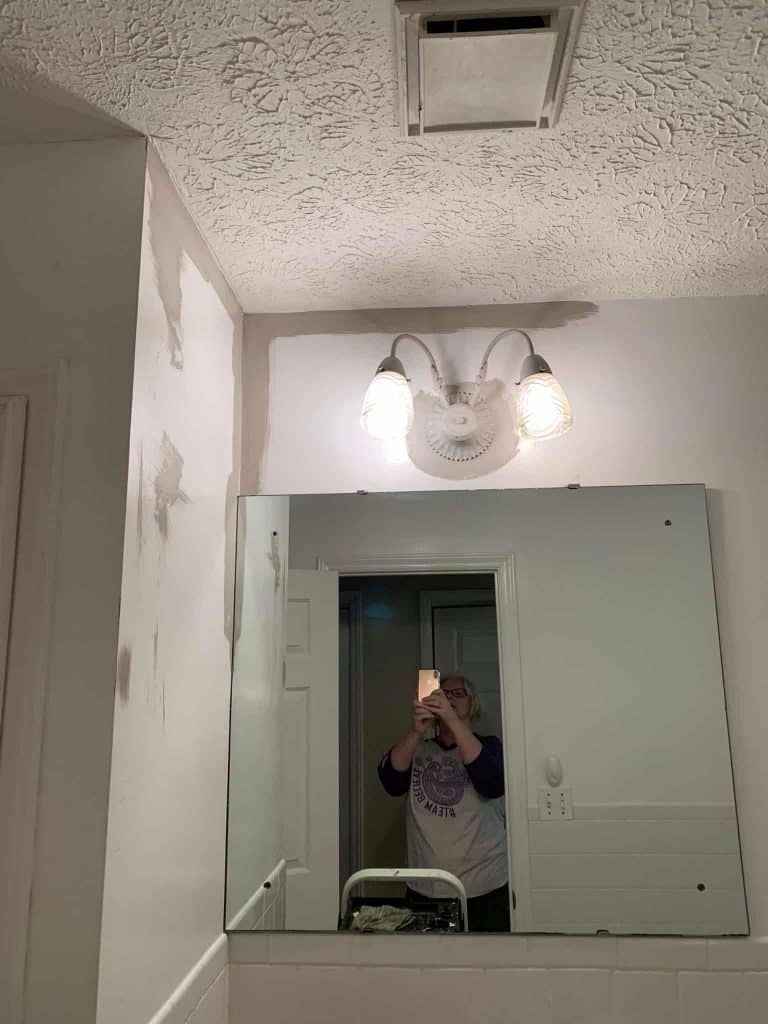 Step Five: Lighting
Change out light fixture. Carefully of course. I found this light fixture on Facebook's Marketplace for $25.00 brand new in box. Amazing what you can find there! I always research things I buy until I find the lowest price from a reputable person or company. Do any touch up painting you need after the fixture is installed.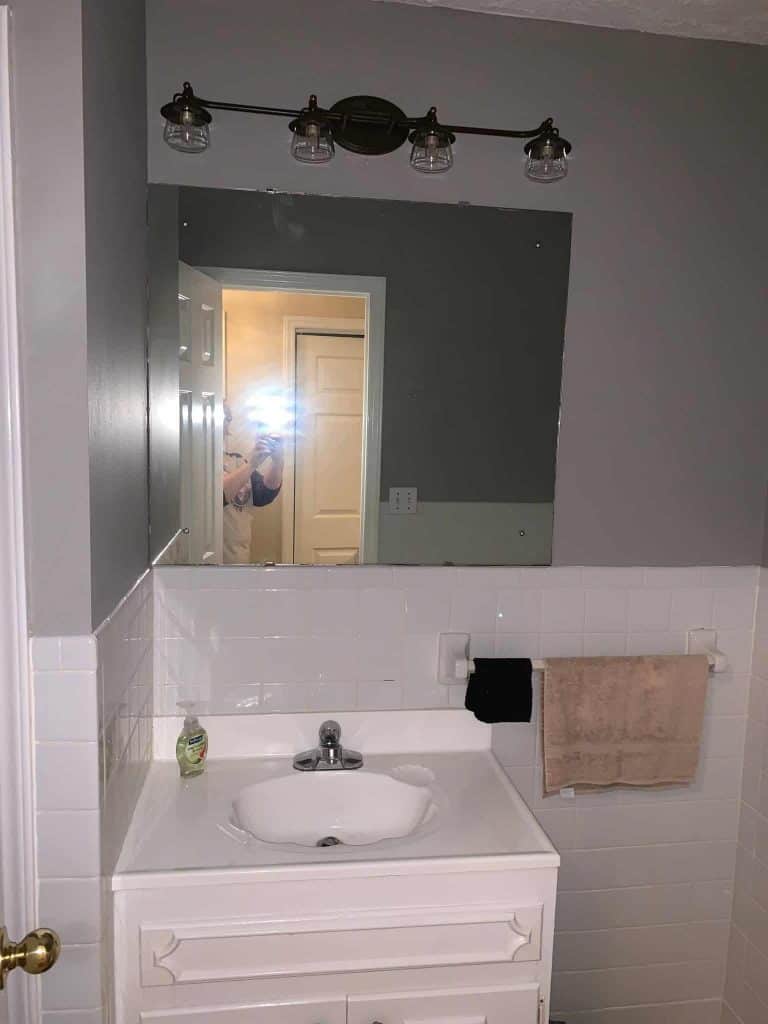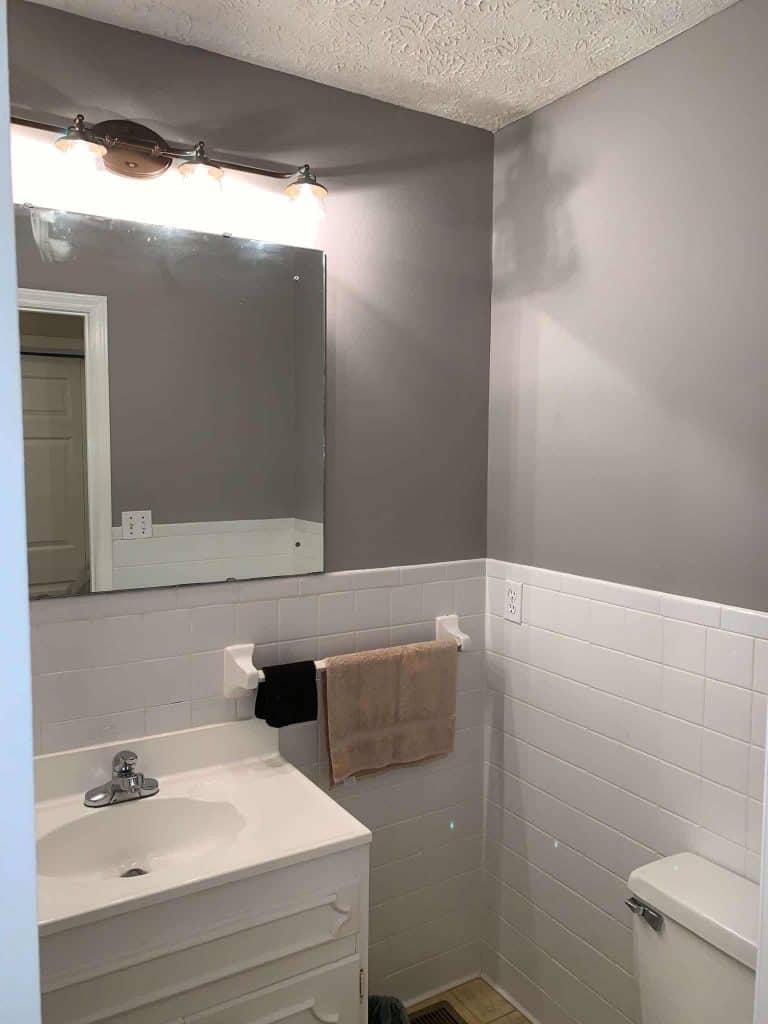 You can find this fixture here (this one has 3 lights and comes with matching accessories):

Step Six: Decor
Now for the fun part! I love shopping for decor and I always change out my decor to keep it fresh and inviting. I'll swap things around or get new things and sell, donate or give away the old stuff.
To upgrade my half bath I knew I wanted the look in my inspiration with the shelves above the commode.

While shopping at Target one day I found this wood piece with the natural bark edge and fell in love with it. Since it wasn't in it's normal place I had to hunt the store to see if I could find another. I did! I found it in the housewares section. Apparently it is a cutting board. Who knew?

I bought some brackets at Lowes and Whella! I have my decorative shelving! It truly was a great find because now I knew that I wanted to put my little gnomes in there.

I added an old shelf I had found at a junk store and added a floral hanging I found at a local discount store.

I bought a basket, fake candle with a timer, and a flower pot from Home Goods and placed that on top of the commode. I love that I see that faint glow coming from the room with such a dark hallway leading to it.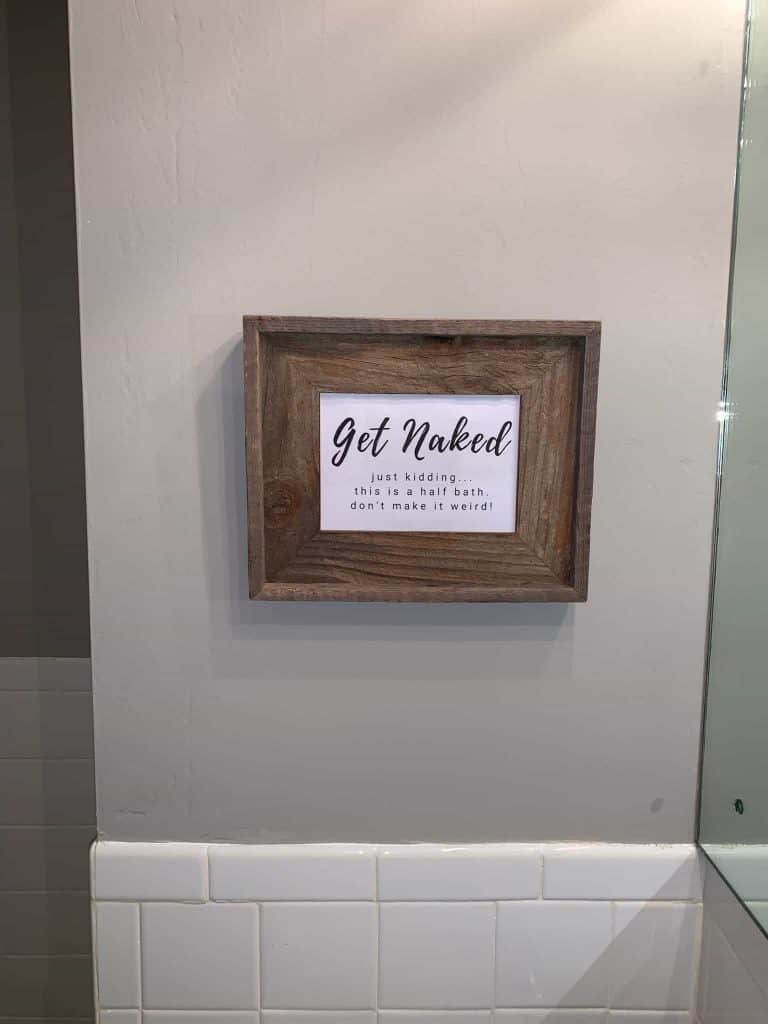 Lastly I added the cute little sign that I had been dying to put in there! Full instructions on how to do this yourself can be found here! Now tell me, did this make you laugh a little? What kind of fun unexpected things do you have in your home? Let me know in the comments.
Here is my finished upgraded half bath: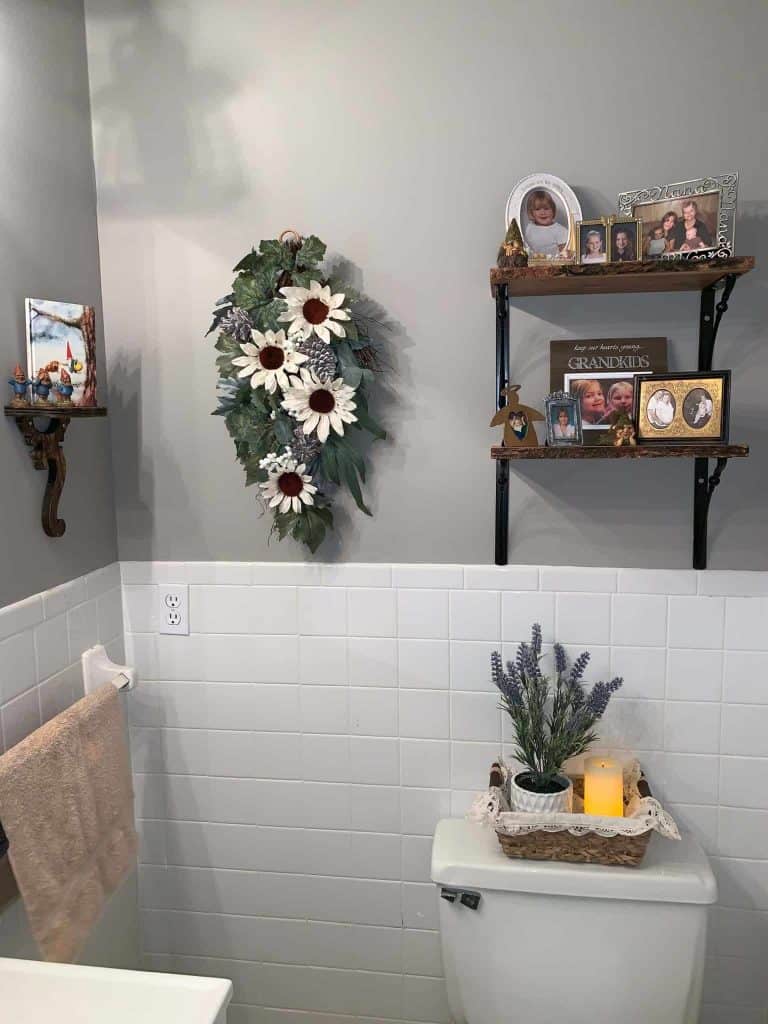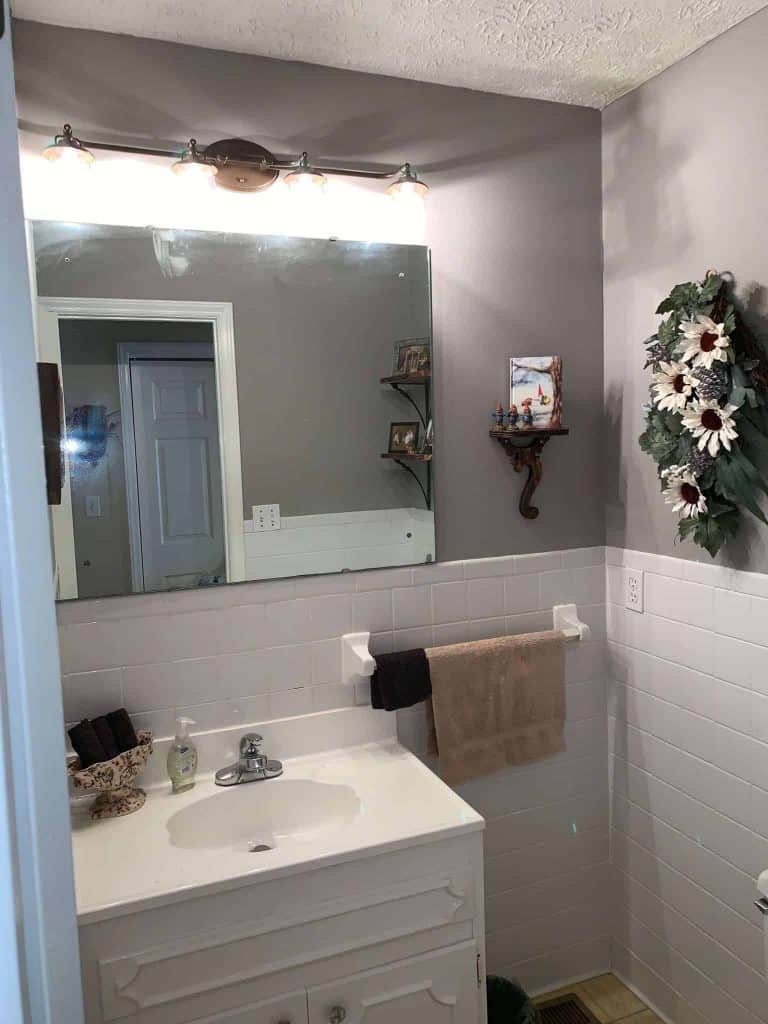 What if your counter top is in poor shape but you don't want to replace it? Take a look at this post I did on a counter top makeover. I used on a different project. I highly recommend the Giani Countertop Paint Kit.
Have you ever attempted to upgrade a half bath? I'd love to see yours. Post your pics in the comments!
Pin it for Later: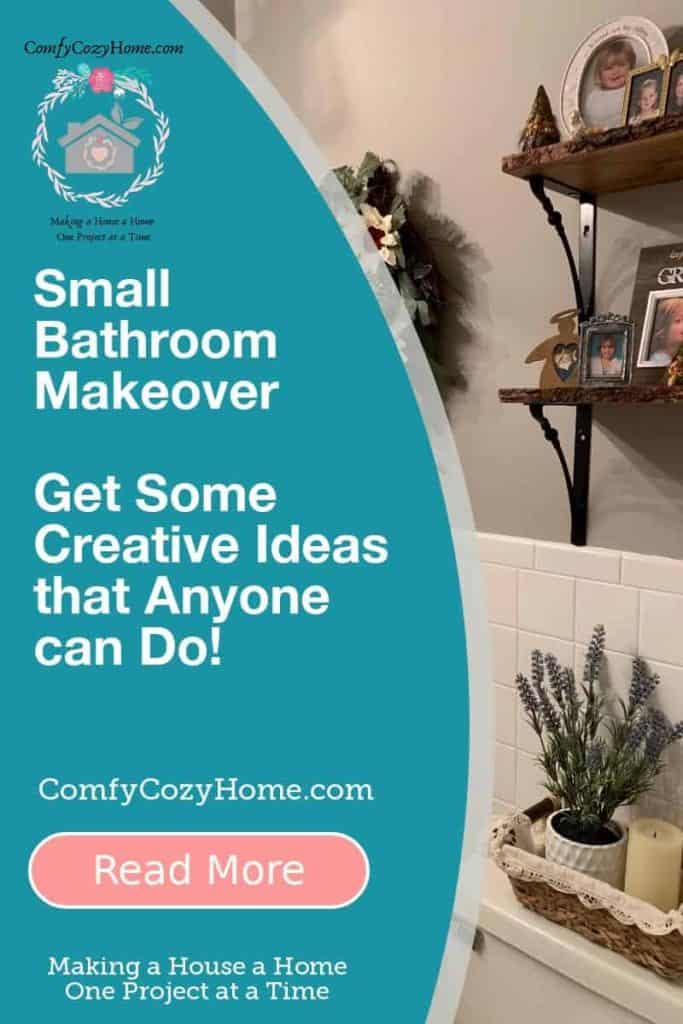 For some more small bathroom ideas check out this post. There is a lot of different ideas that is sure to suit just about anybody's taste.

50 Powder Room Ideas That Transform Your Small Half Bath From Ordinary To Extraordinary